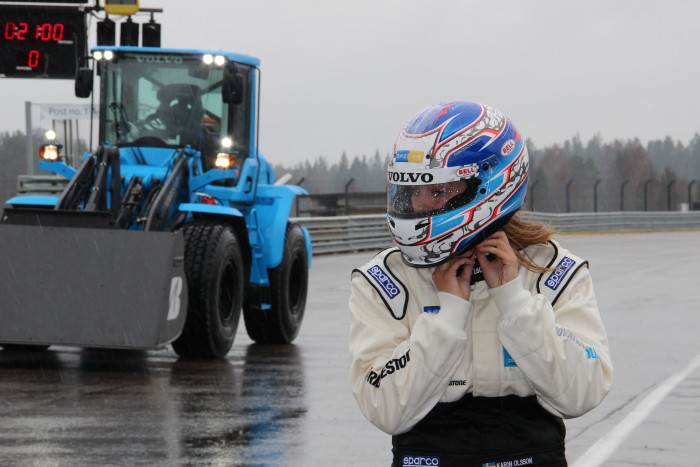 pressrelease
New world record attempt for Volvo L60G PCP - the world's fastest wheel loader
27 aug 2012
On 11 September the world speed record for conventional wheel loaders is set to return home to Eskilstuna, the birthplace of Volvo Construction Equipment. Yet again the operator Karin Olsson will climb into the cab of Swecon's Volvo L60G PCP (Performance Concept Prototype) wheel loader - this time to improve her own world record. The location is Eskilstuna Airport.
On 3 May this year, the Volvo L60G PCP loader broke the 100 km/h (62 mph) barrier at the famous Anderstorp Raceway in Småland in the southern part of Sweden. After the world record, the interest in the machine has been enormous, particularly in China and Russia. Hundreds of websites have published reports on the wheel loader speed record. But most interest has been received from Europe. Among other things, televised reports, articles, and test runs have been published in Norway, Finland, Italy and Germany.
Now it's time to take the next step with the concept. Swecon, nationwide distributor of Volvo Construction Equipment in Sweden, welcomes the press and the public to witness the 28 year old machine operator Karin Olsson make an attack on her own record of 103 km/h (64 mph). The event will take place on Tuesday 11 September at 1 pm at Eskilstuna Airport. The location is selected in order to benefit from a longer stretch than what was available at the racetrack at Anderstorp in May.
Volvo L60G PCP runs on 100 % biodiesel and has a more than a doubled power output of 250 kW compared to 120 kW in the standard L60G loader. The concept prototype is completely based on Volvo components, where the core values of quality, safety and environmental care have been in focus throughout the development of the prototype. The machine is modified by a team of young technicians at the Swecon facility in Västerås during the winter and spring of 2012, in collaboration with Polestar Racing, Bridgestone and Volvo Construction Equipment.
- The G-series Volvo wheel loader is an articulated construction machine which in its original version has a top speed of approximately 46 km/h (28 mph). Those simple facts have been the major challenges when developing the machine to become the world's fastest wheel loader, says Fredrik Rigö, project leader for L60G PCP.
---